34 players show up on a beautiful sunny day to play Piranha event 14 and to fight for the top 8 places.  The first two levels were fairly quiet and no one going out. However into the first break Pepito and Andy were in a hand where Pepito moved all in on the river with a highly coordinated dark board. Andy tanks and eventually begrudgingly makes the call only to see that he would have to double up Pepito as he shows the nut flush.
Around level 3 we see Tony G and Adrian in a hand where there were preflop raises and Tony getting it all in on a ten high board post flop. Adrian thinks for a while and makes the call with his pocket 9s only to be behind when Tony show's QQ. Tony fades Adrian's outs and doubles.
The field thins out as we get closer and closer to the final table. Eventually it's Rich Modjeski busting out at 10th to bring us to our final table.
The final table is:
Michael Gordon
Sean Paschini
Eric Grady
Cathy Seferi
Ferdy Jimenez
John Gheorma
Jefferson Dong
Kristian Monsen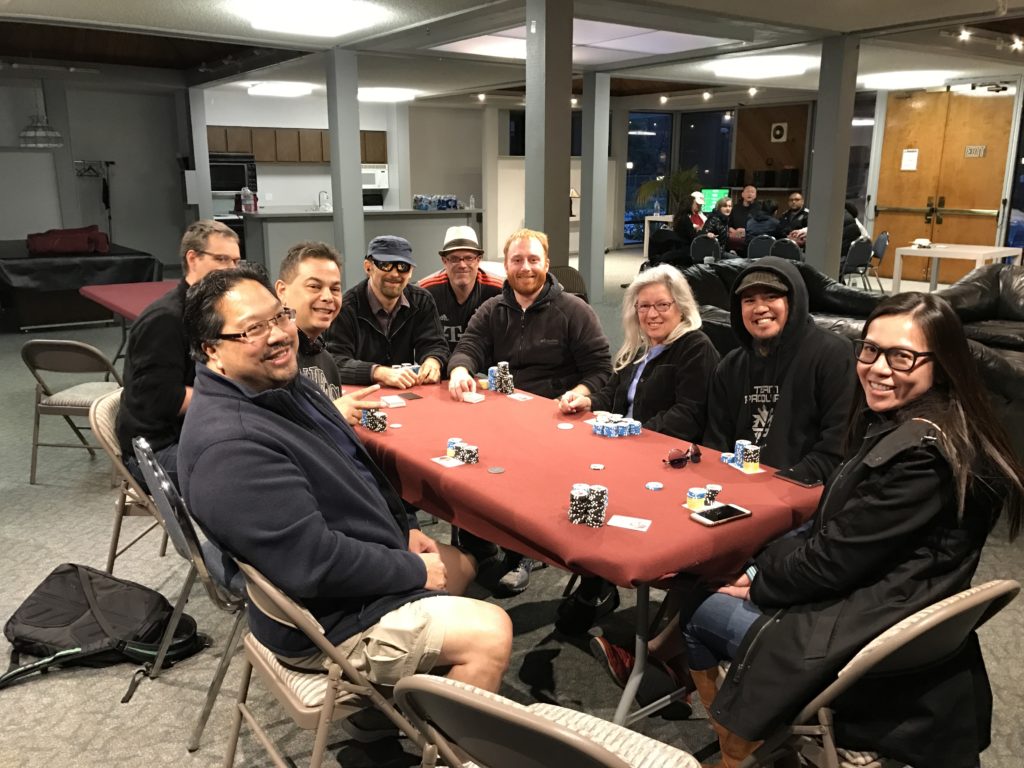 Shortly after the formation of the final table Joey bubbles in 9th place and falls victim to new comer Kristian. Shortly after Eric knocks out Kristian in 8th place for 2 points. The first timer makes the final table and makes points. We hope to see more of him in the future. Eric now has a commanding chip lead and will for some time at the final table as he starts coloring up to pink and orange chips. JD and John G are the next to go and with John taking home 8 points for his first score of the season.
We are now 5 handed and Ferdy doubles up Sean and is shortly out after that in 5th for 12 points. Sean came to the table as one of the shorter stacks but has now grown it courtesy of  Ferdy and Eric. In fact everyone is benefiting from doubling through Eric as Kathy eventually takes a small lead courtesy of Eric.
The last 4 take quite a long time going back and forth for levels upon levels. Gordo doubles with J9 top two through Sean. Sean rivers a straight to double through Eric and now he is the short stack. However Eric triples up right after. Blinds are super high 4/8k with 1000 ante. With Gordo and Sean with most of the chips Kathy is out in 4th followed by Eric in 3rd courtesy of Gordo.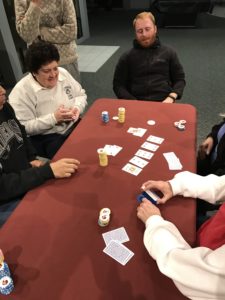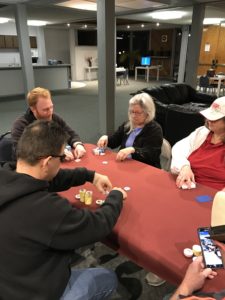 Gordo and Sean are heads up and Gordo having a major chip lead. Sean gets it all in and Gordo snaps with AQ of clubs to win event 14.