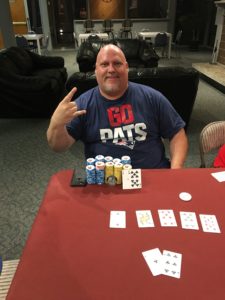 38 players showed up for the penultimate event of season 11, with 30 league players still mathematically alive to earn on of the 10 WSOP seats that will be awarded this season.
By the time we reached hand-for-hand play, 5 of the 10 remaining players still had a chance to push themselves into the top 10.  Both Geoffrey Batuyong and Cathy Seferi busted during hand-for-hand play and ending their slim hopes of WSOP 2017 glory.
FINAL  TABLE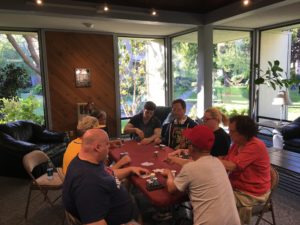 With  the double bust out, the 8 handed final table was set.  John Huang, needing a top 3 finish to get into the top 10, led the pack with Michael "Gordo" Gordon, Steve Stockmal, and Esmarelda Alderete within  striking distance.
First out was Laura Marshall.  With the blinds at 600/1200/200, Laura limped in early position and was raised in late position by John.  Laura moved all in and John called quickly.  Laura turned over JT and John showed JJ.  Although Laura flopped a T and a back door straight draw the Turn and rRver brought no  help and she was awarded 4 points for her efforts.
One level later, Esmarelda went  out in 7th place.  After losing a substantial portion of her stack  when her AQ was outraced by Steve's AJ, Esmarelda was on  the short stack.  With the blinds 800/1600/200 John raised under the gun.  Alex Munteanu, also with a relatively short stack, moved all in.  Esmarelda called and was all in.  John folded and Alex turned up TT and Esmarelda showed 88.  Esmarelda was not able to outrun the overpair and earned 6 points for her 7th  place finish.
Karen Alberts went out a short time later.  Still at 800/1600/200, Ryan Drake raised in early position and  Karen called in the Big Blind.  She open shoved all in on a K38 board and Ryan called.  Karen turned over A3 and Ryan showed KJ.  The Turn and rRver didn't improve Karen's hand and finished 6th for 9 points.
With Karen out Steve and Alex were the two short stacks.  At 1000/2000/300 Steve managed to double up hitting trip Queens against John.  Not long after, Steve took over the chip lead from John.  Ryan raised from the Button, John moved all in, and Steve called all in.  A bit disgusted, Ryan folded his 44 face up.  Steve turned over KK and John turned over TT and the KK held up.
Alex was now on the short stack.  The blinds went up to 1500/3000/500 and put Alex in a situation where he had to push any reasonable holding.  He moved all in and Steve called immediately from the Big Blind.  Steve had woken up with QQ and Alex held J6.  Alex flopped a 6 for a slim hope of sucking out and that hope became a reality as the turn brought a J.  Alex's much needed double up left Gordo as the new short stack.
Later in the level Gordo found himself in the same situation as Alex and shoved all in and was called by Ryan in the Big Blind.  Gordo turned over Q3 and Ryan held a dominating KQ.  K high won as the board ran out.  Having already locked up his WSOP seat, Gordo was playing to try to beat the Piranha Poker points record of 213 set by Blue Sirius.  Although his 5th place finish and 13 points left him short of that goal, he did become just the 2nd player to ever eclipse the 200 point threshold in a season.
On the very next hand, Ryan raised and called John's three bet all in.  Ryan turned  over 88 and John held KQ of Hearts.  Ryan still held the lead on the flop although two Hearts gave John a lot more outs.  The Turn was a blank but a King on the river sealed the hand for John.  John doubled up and crippled Ryan.
A couple of hands later Alex shoved and Ryan called.  Alex held AT and Ryan held A9.  The KQK Flop gave Ryan some choportunities by the J on the Turn put an end to Ryan's run in 4th place.  He earned 19 points for his effort.
Steve and  John were now guaranteed to move into the top 10 with a 3rd or better finish.  Alex needed a victory and his chances were slim with a very short stack.  Steve was not making it easy on him, shoving blind versus blind at every opportunity.  After about a half dozen such hands, Alex was finally forced to make a stand at 2000/4000/500 and called.  Steve had A6 and Alex had K5.  Alex flopped a K but unfortunately it came with an A and a 6 to give Steve two pair which held up.  Alex finished his spirited run in 3rd place for 31 points.
Heads up and now guaranteed their seats, Steve and John went into full gamble mode.  They were all in 4 of the next 5 hands, all resulting in chops.  On the 6th hand of heads up they again got it all in but this time Steve held a dominating AT while John held A6 of Clubs.  Steve flopped a T but John actually improved his chances by flopping two Clubs.  The Turn and River didn't pan out for John and vaulted Steve to victory.  John earned 46 points for 2nd and Steve earned 59 points for 1st.