28 players showed up to do battle in Event 7.  Many of the players at the top of the leaderboard were not in attendance which presented an opportunity for several players to move up the leaderboard.  Event 6 winner Rob Astarita was not able to repeat and went out just shy of the final table.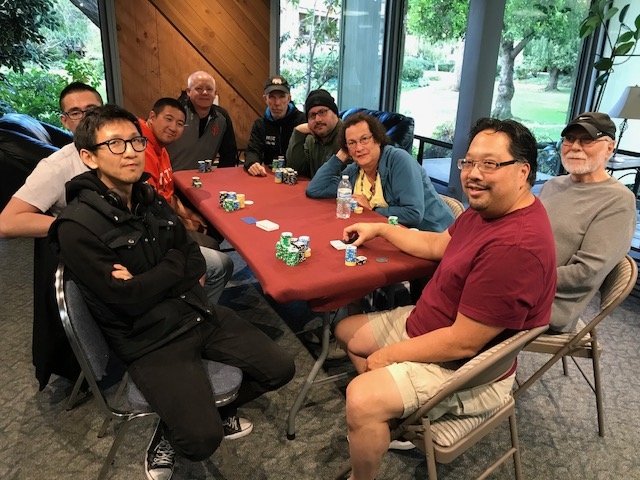 Two 5 handed tables lasted for quite a while until newcomer Enriq Ma busted and the final 9 was set.  6 positions paid out so three unlucky final table participants would go home empty.  Bill Sims lost 44 vs 88 to Sheng Xie, Joe Weibelhaus had his A6 lose to AJ, and Pepito Pea ran an all in river bluff into a king high flush to set the final 6.
Mike Wu found himself short stacked and had to shove 44 but ran it into AJ and lost the race and went out 6.  Mike earned 5 points for his first score of the season.  Jefferson Dong went out next when he shoved his short stack into the middle with 54 and lost to 77.  JD earned 9 points for his 5th place finish.
Rob Reece was the next to go in 4th place and 16 points. 
That left Sheng Xie with the chip lead, Esmarelda Alderete in 2nd and Brad Jensen third in chips.  Esmarelda had maintained the shortest stack through most of the final table but kept alive through several key double ups. 
Perhaps the key hand of the tournament happened when Brad opened on the button with TT and Esmarelda shoved all in.  Sheng folded and Brad took a moment and called and was all in for his tournament life.  Esmarelda had AQ but she couldn't outrace the pair and Brad took the chip lead and left her again with a short stack.  A short time later Esmarelda shoved 88 and got called by Brad's AJ.  An ace on the flop sealed her third place finish.  Esmarelda earned 25 points and her strong early season run left her in the overall season points lead.
Heads up play only lasted a few hands as Brad held a sizeable chip lead vs Sheng.  Sheng shoved all in with Q6 and was called by Brad's KJ.  The board brought no help to Sheng who took home 36 points for 2nd place and moved into a tie for 4th overall.  Brad's second victory of the season have him 49 points and put him right behind Esmarelda in second place overall.