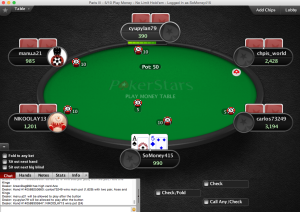 Who is ready to get their internet pokerz on? Piranha will be starting weekly tournies on Pokerstars as soon as next week! With this, the committee would like to introduce you to what we call "Piranha Bucks".  This is what you will earn when you make the money in one of our online tournaments.  A typical weekly  (or biweekly depending on demand)  will have an entry fee of 10 dollars. Best part?   They will run no matter how many entries we get!  Let us say 10 people enter. It pays top 3. You win!  You would earn 50 Piranha Bucks!  What can they be used for?  Well that is up to you. Maybe you want to apply them to the 5 dollar travel bonus next week?  How about towards the end of the year cash tourney? Maybe you want to sign up a friend to play one week at Piranha?  Well you can use your Piranha bucks for their buy in, or better yet, have them join online and they can win their own entry!  Maybe save them up till the end of the year and pay for next year's season?  It is up to you!  If you remain a full team member Piranha bucks will never expire!  Play as much as you like, and accumulate as much as you can! How do you get started? Simple.
Get Started
Download the Pokerstars software at pokerstars.net
Go to the home games section in the lobby
Enter Club ID 2019829
Enter code Piranha Bucks
At the next Piranha Tournament Open your Piranha Bucks account with the TD (it is Tony this week) for however much you want to start with. You can also paypal or Chase quick pay but that must be approved by Tony through an email or text first. Tony's email is gags3469@gmail.com
Play in any tournament you like. Our Inaugural tourny will be

Sept 15th
We are very excited about this, as I know a number of us really would like to get more poker in during the week.   Why not from home, and why not do it and save a little on all those things you do Piranha.  Look soon for other Online events and ideas that we will be throwing out to the Piranha masses.   GL everyone.  If you have any questions contact Tony at gags3469@gmail.com or text him 209-395-8889.