47 Hopefuls showed up to see if they could take down the first place prize of 69 points. It seemed this weeks odds that Tony made were a voodoo jinx as one by one some of Piranhas poker elite fell by the waste side early. By first break we had lost only 8 players and over half of them were former Piranha seat winners.
13 more fell by the second break and we were down to 4 tables. The chip leaders were Gordo, Pepito, Adrian, and Tek. By the third break we were down to 2 tables and the 12th place bubble was looming,  showing that Stacy and Esmerelda had moved themselves in front of the field.
At 12 we went hand for hand, and it took only three hands for it to burst, sending JD out the door with 0 points. Next to go was Lori silver in 11th grabbing 3 points,  and Greg king grabbing 4 points for just missing the final table. Our final nine were set, with Mike El-Rafai as the chip leader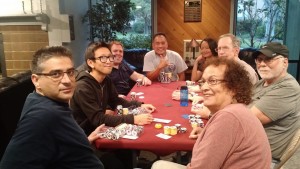 Mike E.F
Paul Albert
Pepito Pea
Ryan Park
Esmerelda
Bills Sims
Ian K
Adrian Aguilar
Elaine On
Elaine was out 9th when she called her last 20k after a Bill Sims shove, and her KQ could not out run Bill's AQ.
A short stacked Paul Albert finished 8th with a shove from early position with 109, and being called in 2 spots. A flop of 4xx and Aguilar had the set of 4's and that was all she wrote.
Next to go was Pepito in a sick hand where BvB it was limped and checked behind. On a flop of J75 Pepito bet 1700 into a 4600 pot and Mike made the check call. A Q on the turn found Mike checking and Pepito firing 4300 again. Mike tank called and the river brought the 10. Mike shoved and Pepito called the pot sized bet all in to find Mike had rivered the straight with 98.
Ryan Park as his q6 shove ran into Mikes aq and he was gone in 6th as Mike began his streak of knockouts at 2
Cooler city was next,  as Esmeralda found herself all in on a flop of JJ10 with AJ only to find out Mike had flopped the boat with 10's. A 10 on the turn meant quads and the end of Esmerelda in 5th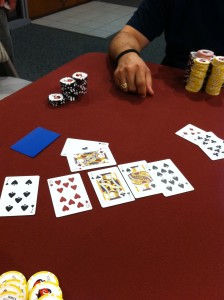 3 times is the charm as Mike took out Bill Sims in 4th when he called with an open ended straight draw on the turn vs Bills Ace high. A 4 on the river and it was another takedown.
Ian K found himself short and calling an all in 3 bet from Mike. Ian tabled the A9 and Mike's AK held up for final table KO number 4 and Ian was gone in third.
Mike went into HU vs Adrian with over a 7-1 chip lead. Despite a patient game from Adrian, and 3 successful all ins, he in the end could not stop Mike's top pair from holding vs his middle pair and straight draw and sending him to 2nd place and Mikes 5th victim at the final table.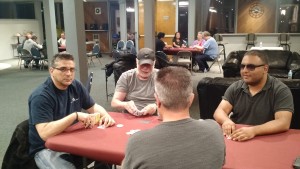 Congrats to Mike and his finish, as that puts him on top of the leaderboard and well over 100 points and a very likely chance he has locked up a seat for the WSOP.