Piranha's last regular season tournament brought out a field of 14 players to our Foster City venue.  Unlike in years past, there was only one player attending, Paul Albert, who could secure a seat at WSOP.  Unfortunately Paul went out before the final table.  Many thought the tourney would be short, but it actually didn't finish until after 7:00 p.m.  Jan Klimala was first out when her pocket aces were cracked by Ferdy's K 10, when a K 10 came on the flop.  We didn't come to a final table until about 3:00 p.m.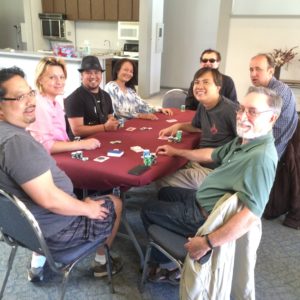 Players exchanged chips for a couple of hours with the biggest action being a 3-way all-in which Elaine took down to make her the chip leader. We finally got to the points with our final four being Dominic Chan, Ferdy Jimenez, Elaine On, and Magda Wybult.  Dom went out in 4th putting him into double digits overall.  Next was Elaine, which put us at heads-up between Ferdy and Magda.  Play was very slow with chips moving back and forth.  Finally, Ferdy shoved with pocket deuces only to run them into Magda's KK.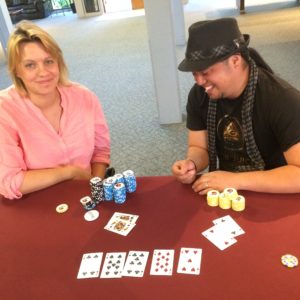 No help for Ferdy and he was out in 2nd place with 23 points.  Magda added 32 points to put her in 4th in the overall standings.  Unfortunately for the team, a very pregnant Magda will not be able to represent us in this year's WSOP.
Our final top 15 are:
Mike El-Rifai – 176
Tony Gaglione – 159
Andy Park – 158
Magda Wybult – 153
Pepito Pea – 148
Derrick Hansen – 136
Christine LaMonaca – 134
Adrian Aguilar – 132
Tony Kitner – 123
Ray Chiu – 122
Victoria Dea – 116
Reem Assil – 100
Paul Albert – 98
Ian Kanata – 90
Ed Tsai – 79
Keep an eye out for our next post about our 10 seat winners, and who will be representing Piranha!