34 Showed up for tournament #17 in Foster City. Each hoping to move up into contention, or to lock up that coveted piranha seat with only 4 tournaments left.
Aftr the dust settled in what seemed to be a slew of quick bustouts, we had a final table of 8 and were in the money. the makeup was, 2 guys who already locked up a seat,a few trying to jump into contention for a seat, and 1 looking to lock a seat up.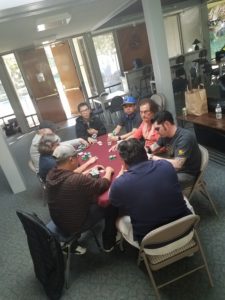 Final Table
Rod Flora
Rodney R.
Esmerelda
J.D.
Bill Sims
Justin S.
Pepito
Karen A
The first three to go were Justin S (2 pts) Rod Flora (4 pts) Rodney R. (8 pts) Rodney 8 points put him into the top ten. Rod with his seat already locked up managed to take 4 points out of the system leaving those hopeful of squeeking in a chance.
The next three to go did not move the standing much. Esmerelda (12 pts) J.D. (18 pts) and Bills Sims (29 pts)
That left us with a heads up of Karen Alberts, who with a win could lock up a seat, and Pepito who already had a seat locked, but in true Assassin's Creed was looking for a 1st place finish to take the overall points in the standings.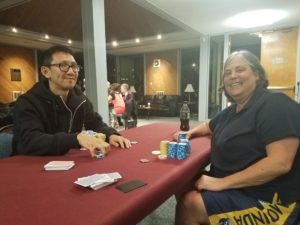 In the end in what amounted to a long HU match with very shallow stacks, Pepito came out on top (55 pts) and Karen got 2nd (42 pts) The 2nd place moved Karen into the top 10 in 7th position with 100 points overall.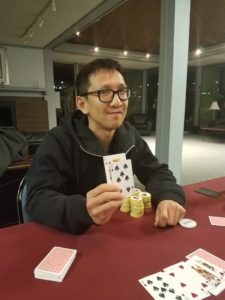 Pepito continues to show his skills at the table and now is the overall points leader overtaking Gordo. We have a nice 3 week break so see you all on April 22nd!