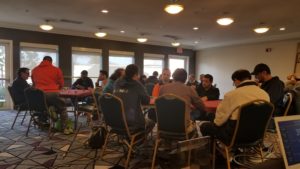 A larger than usual crowd for La Quinta-Dublin came out to test their poker skills as we are almost halfway through the season. The final total was 28 and it was going to pay 6.
Many of us have not been around since the beginning of Piranha Poker, so it was a nice surprise to see the founder Ed Sandoval show up tom play! (pictured in the middle)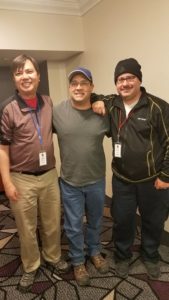 The first 3 hours of the tourny saw very few bust outs. As darkness set and the lights got brighter, bustouts came fast and furious, with short stacks needing to double to make a run.
We got down to a final table of 9 quickly here, but with only paying 6 we were yet to get to the points. Unfortunately Esmerelda was our bubble and she left empty handed in 7th place.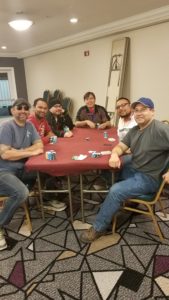 Our final table was set, which included Ed! Adrian wa the first to go out (5 pts) Next up was our founder Ed (9 pts) and Bahrad (16 points) Dom went out in 3rd (25 pts) and we had our heads up match between Brad and Haisam.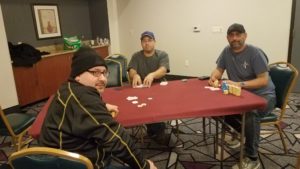 In the end it was Haisam taking the win and the 49 first place points. Brad's 36 points for 2nd put him well over 100 for the year and becomes the 1st person to most likely lock up a seat. See ya all in a few weeks!