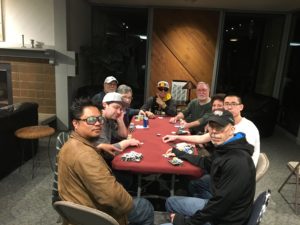 The Jay-Z song was definitely on for Arkady Glazman who took down first place at Tournament 8. Arkady outlasted 33 other players in taking down 55 points as he looks to once again represent Piranha at the WSOP (having won a seat in Season 5).
It looked to be an exciting tournament as we started with 34 players and had a bustout very quickly as Anne Stewart's pocket Kings ran into Ricky (don't call me Rod) Flora's pocket Aces.  Ricky's quad Aces by the runout sent Anne to a very early exit.
It was when we got to 12 handed that one of the most interesting hands of the tournament happened.  Patrick Galamay with the short stack goes all-in and is called by Gilbert Amparo and Karen Alberts.  Flop is 10 10 7.  With a side pot for Gilbert and Karen,Gilbert bets 3k and Karen jams for her last 10k.  Gilbert tanks and eventually calls with pocket Jacks. Karen is way behind with her pocket 4s and Patrick holding Ace Jack.  Neither Karen and Patrick improve and are gone from the tournament.
Nora Massuda is out next as she jams  on the button with pocket 10s and is called by Gerry Shebar's AK. Ace on the flop sends Nora out in 10th place and creating a final table.
Another 3 way action would soon arise at the final table when Gerry with his last 10,600 is all in preflop.  He is quickly called by Jeanne Massuda with 10,700 and Sheng Xie who has a big stack and tanks for a few minutes before calling.
Gerry has Q10, Jeanne AKs, Sheng 99.
Flop is A 4 10 giving the lead to Jeanne. Turn is 10 giving hope to Gerry but the Ace on the river sends Gerry home and allows Jeanne to triple up.
And the hand of the night would come a few hands later as the action folds to Jeanne in the SB who limps in. Sheng in the BB jams and Jeanne snap  calls him and flips over AQ with a sheepish Sheng turning over 87o.  Sheng doesn't improve and busts out in 7th place.  This makes Jeanne the overwhelming chip leader.
Ricky Flora is out next when he gets in his last 13k with AK but runs into the pocket rockets of Bill Sims.
Shortly after Bill bust wife Jeanette Sims out.  Tough ride for Bill home that night, I'm sure!
But Jeanne's reign of terror would continue as she bust out Bill and Gilbert leaving a short stacked Arkady who has been quietly grinding away as her heads up opponent.
With Jeanne with about a 2-1 chip lead, Arkady jams with pocket 7s and is called by Jeanne holding K5.
The flop of K K 2 makes it look like Jeanne's run will continue but the miracle 7 on the turn doubles up Arkady and gives him the chip lead.
The last hand of the night comes with both players get all the chips in on a flop of 8d Jd, Ax.  Arkady flips over 6d 4d for the flush draw but Jeanne ahead with Qx 8x. Unfortunately for Jeanne, the 3d comes on the turn and Arkady takes down Tourney 8.