Forty players show up for tournament 3 of season 10, one of our largest turnouts this season. Congrats to Tony Gaglione for taking down the tournament and taking a whopping 62 points with king dewey. Smile bro, you won! 🙂
You can see the total results here
Overall standings have been updated here
RSVPs are now open for Event 4
Tournament #3 Final Table Recap
40 players came to duke it out for the top prize of 61 points on Saturday. TD Ferdy J added a new tradition of tunes blasting in the background to balance the intensity of the room. In traditional Piranha fashion, there was a dramatic lead up to the final table. On the 10th level (500/1000 blinds 75 ante) the cutoff and button limped to past Piranha WSOP representative Pepito in the small blind with 19k behind. Looking down at 99, he decided to shove. Unfortunately, he ran into QQ in the Big Blind and with no help on the board he busted in 11th place.
In the same level Dennis K. was forced to throw in his last chips (1BB) in the dark in small blind position  into 5 limpers. His Q9 did not improve to beat his opponent's A high, deeming him the "bubble boy".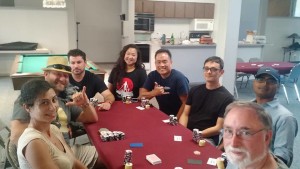 The final table was set and the music was turned off to set the tone. Action started quick with a double knock out on the 11th level. Gerry S. open shoved with a short stack in early position to be called by a big stack. Vickie D had a decision to make, and after some deliberation, decided to shove all-in for a few more chips and the cards were flipped. Gerry and Vickie's KJ and KQ did not improve against past Piranha WSOP contender Tony G. who flipped over A2, sending them home in 9th and 8th, respectively. Coincidentally, Tony had earlier crippled Vickie and left Ian K short in dramatic fashion winning  a 3-way pot where with blinds 500-1k 75 ante Tony made it 2200 to go from early position.  Vicky called and Ian K went over the top for over 40k. Tony then reshoved his last 23k and Vicky went into the tank.  After over a minute she made the call and we had ourselves the biggest pot of the tourny. Tony had ak, Vicky qq and Ian had made a move with A9. An ace on the flop and no help the rest of the way gave Tony the over 75k pot and the massive chip lead.
In the same level, Jeurgen H finished 7th with a 3-bet all in with KJ vs last year's Piranha WSOP contender Reem A.'s 99s and did not improve. Vineet K ended up in 6th place, after his 78 off got called by Tony G's AJ. Prior to the hand he had been crippled when  he ran 33s into Reem's flopped full house on a QQ6 board.
A series of Reem knockouts followed for the next few levels. In level 12, Ian K ran A10 into her 88s and did not improve, finishing in 5th place. In level 14, Reem took out her 3rd final table opponent, Tony K., with the same hand (88s vs 77s), landing him in 4th place. Reem's next victim was 3rd place finisher John M., in brutal fashion. On the botton 3-handed, Reem min-raised and John 3-bet shoved with 20 BB with AK. Reem quickly called with JJs and the board ran out JJQXX. Death by quads!!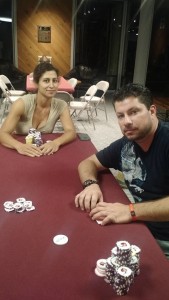 It was an epic battle that lasted over 30 minutes, two of Piranha's most feared contenders and in the end Tony took it down on a KKQ8A board after he check called an all in from Reem. Reem's diamond draw did not improve against his flopped trips, and Reem was sent home in 2nd place with 48 point advantage in the Piranha field. Tony took his 1st place 62-point victory picture with no smile 🙂
It was another successful Piranha tournament by tournament director of the year candidate, Ferdy J.