Congratulations to Troy Soult who took down the 10th Anniversary event.  Troy wins the special 10th Anniversary bracelet and a Lake Tahoe Time Share.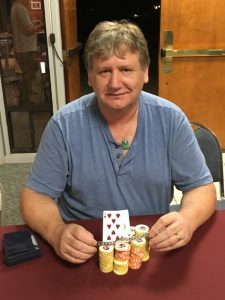 There were a total of 50 attendees to our lunch celebration.  Thanks to everyone who attended.  Your generosity raised over $3000 that will help go towards much needed upgrades in equipment.
The event kicked off with a ceremony with Ed Sandoval,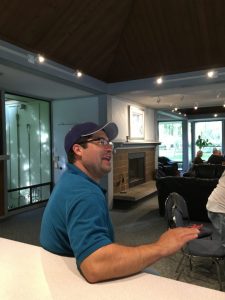 the founder of Piranha talking about how he got the idea watching Steve Dannenmann playing during the 2005 WSOP.  Ed figured that if an amateur like Dannemann could be playing against the best players in the world that he could play as well as long as it was made affordable somehow.  Ed realized that if he created a league of like minded players who pooled their money and played and improved together that we would have a shot at doing well at the WSOP.
Piranha was originally called Barracuda Poker after original member Scott Sotka got Barracuda Networks to sponsor the effort in the first season.  Barracuda provided a van for the team to drive down to the WSOP.  In that first season, 3 representatives were sent to the WSOP.  Elaine On read a statement from Lisa Maiffret who was one of the first representatives.
When Ed Sandoval handed off the running to a Steering Committee, Lukas Cadil became the point person. Dom read a statement from Lukas who unfortunately could not make the event.
Dom also pointed out that over 9 seasons of Piranha, we have sent 92 representatives to the WSOP. 14 of these representatives have cashed for a total of $59,255.  This gives Piranha a 15% In The Money rate which any top pro would be envious of.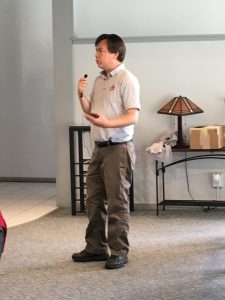 Brad Jensen who was the first Piranha to cash in Season 2 then spoke about how much Piranha improved his game.  Brad is the longest serving member of the steering committee and he spoke about how much Piranha means to him as it has given him success in many tournaments over the years.  Beyond that, Brad expressed appreciation for how much Piranha players support each other citing his experiences at the WSOP when his fellow representatives were rooting him on from the rail.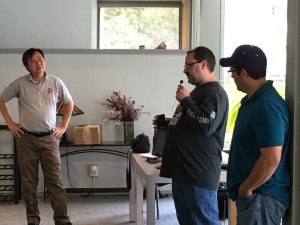 Next we heard from Patrick Milligan who sent a video.  Patrick is the key person who made Piranha "grow up" as much of the  professionalism and the nice touches are directly attributed to him.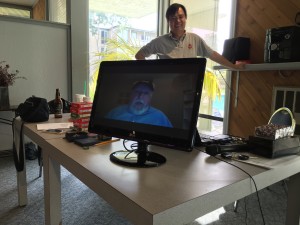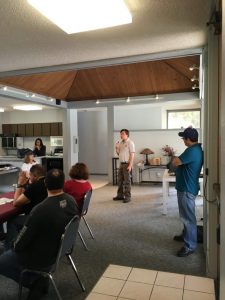 Dom shared a touching memory of Piranha and what he thinks typifies our spirit.
A few weeks before he died, long time player Jack Fraenkel came to play in what turned out to be his last Piranha game.  Dom relayed how much joy Jack had in playing with Piranha despite how frail he was from the cancer treatments.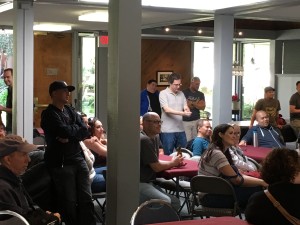 Reem then served us her amazing lunch.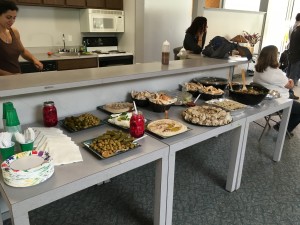 After lunch, the Tournament started and the fun began!
Here are some highlights
Lee Maranto was the first bustout and won the "Donkey Spinner" card protector.  Lee quickly did a rebuy and then went on a winning streak when he followed the action as dictated by the Donkey spinner!
The bustouts were fast and furious and so were the unlimited rebuys and unlimited addons!  Dom was running himself ragged jumping from table to table giving rebuys and addons.
All during the tournament, Dom and his wife Sarah drew raffle tickets for prizes that folks donated.  The full prize list and finish is below.
When the bubble finally burst with the 4 remaining players of Troy Soult, Ian Kawata, Michael Gordon and Lee Maranto, it seemed like bubble play had finally ended.  But in reality, the bubble continued for Ian as he did not want to bust out in 4th place less he win his own donated wine bar!  There were several hands that other players forced Ian to fold as he did not want to win his wine bar!  It was a very unique kind of bubble play.
Finally Lee Maranto busted out in 4th and followed by Gordo in 3rd.  Gordo and Lee then trade their respective prizes with Gordo taking home the very nice wine bar and Lee taking the 4 hour dealer poker party.
Ian and Troy then played heads up with Troy finally taking down the tournament in the 7th hour of play!  While the tournament was designed to last about 5 hours, play was extended because of the large number of rebuys and addons.
It was a great tournament and a blast to celebrate the 10 successful years of Piranha while at the same time raising some money to purchase much needed equipment.
1st-Troy Soult (Tahoe timeshare and Piranha bracelet)
2nd- Ian Kawata (Season 11 membership)
3rd- Michael Gordon (wine bar)
4th- Lee Maranto (4 hour home dealer party)
1st bustout prize of Donkey Spinner- Lee Maranto
1st person who wins a hand with 72- Ian Kawata
1st person who Sucksout when they are all in- Lee Maranto
Raffle prizes
Raiders tickets-Alex Lum
Poker Hoodie- Ferdy Jimenez
Tour of Lucasfilms- Jan Klimala
Gift certificate for Reem's flatbreads and lemonades-Jason Stieber
Carbon Poker tournament entry and hand analysis by Tony Gaglione- Elaine On
Heather's Homemade Cookies- Mike Elrifai
1 hour Graphic Design consultation with Rodney Resella – Vicki Dea
Tickets to SF Dungeon- Paul Albert
Various bottles of wine- Sid Silver, Michael Gordon, Alan Sien, Juergen Heerdegen, Sheng Xie, Nora Massuda