41 hopefuls showed up to battle it out in event #9 at Foster City.
The field moved slow as we only lost about 5 people in the first 3 hours. This left a flurry of bustouts in the midstages as people tried to gain position on the field.
In one of the craziest hands in Piranha history a short stack Stacie Banks shoved with 77. Jan Klimala called with 88, and Rich Modjeski woke up with poket Kings and shoved. Jan called and we saw a flop of……….. K78! Set over set over set. The turn was harmless but the river brought the miracle 8 and Jan "The Legend Fats512" had her triple up.
With the field dropping fast we had finally hit the final table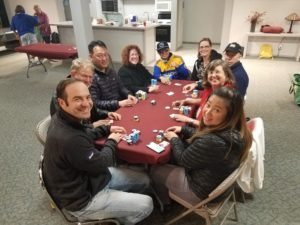 All 9 were getting "paid in this one" Amo Jan and Lori were the first 3 to go and got 4,5 and 7 points. Elise Ricky and Andy were next to go with 10 14 and 22 points. We were one from heads up and it was Vlad going out in 3rd with 31 points. We now how had our heads up of Vikki and Rob.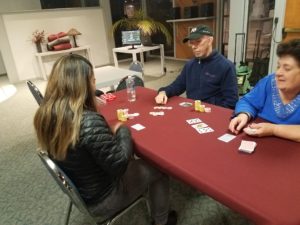 In the end Vikki outlasted Rob in a tourny that went 9 and 1/2 hours. Vikki got 63 importanat points for first and Rob ended up wth 49. here are the current standings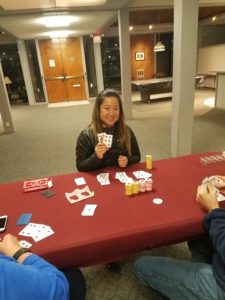 RSVP is open for week 10 and you can find it here http://piranhapokerteam.com/events/season-11-tournament-10/