On a beautiful Saturday afternoon, probably too beautiful, only 22 showed up for event #3. In a tradition that may or may not it having to do with it being a Saturday, your tourny director was hungover. Unfortunatly for those playing, the venue had wifi so our tourny director could watch the Michigan Purdue game. He was told repeatedly after bust outs to show the clock.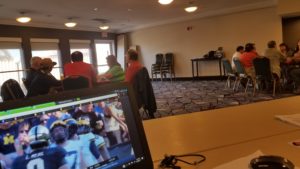 This battle took place in Dublin at La Quinta, which typically ends up with a lower turnout. Whether it is in the 20's or 50's doesnt really matter to those in the battle as 1st place points are always the goal. This one was still paying 43 1st place points, which is plenty to catipult someone into the top 3 this early into the season.
As usual KO's were slow at the beginning but as the antes hit they sped up at a furious pace. It was looking to be Gerry Shebar's day as multiple people rang out with quotes like "Kings again!", and "Kings for the 3rd time!"
Piranha #3 went from 22 to 10 in a matter of a few hours. It was there play came to a grinding halt. Almost an hour and a half later we finally had our unofficial final table as this one was only paying 6.
Calls for a picture to be taking were ignored by the td as he decided to only take a pic of the final 6. Unfortunately that meant Amo out in 7th will not be shown here. Ryan Drake who laid down 88 after getting raised and reraised by 2 players holding AX, only to fold and then see an 8 hit the flop, said "I am not going to risk that much of my stack there" It was a precursor and a catalyst of things to come.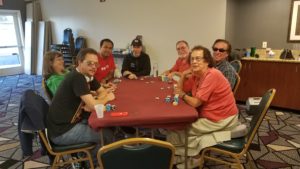 Rob Reece (2 points), and Esmerelda Alderete (5 points) were first to go. After that it was the Ryan Drake show as he knocked out Bahrad (9 points), and Tony Robinson (20 points and 3rd straight final table)
The heads up was set between Gerry "Pocket Kings every hand" Shebar, and Ryan "I fold these 88 like rags" Drake.
If you were looking for a long draw out HU battle, disappointment is here. Ryan with a massive chip lead and the blinds being astronomically high, called Gerry shove of A8 with J10. It was Ryan's day as the J fell on the flop and we had our winner.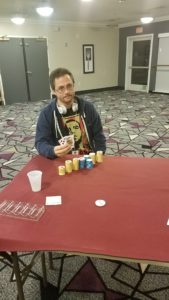 Congrats to the Final Table and see everyone this Saturday in San Pablo. You can register here