Piranha Tourney 4 of Season 12 brought a very small field of only 14 players, but thoughts of an early finish faded as the sun began to set before we declared a winner.  Early in level 1, before all players had arrived, we had a limped family pot at a table of 4 players.  Flop is J J 10.  Elise Gaylord leads out for 200 and is called by 2 people.  Turn is an Ace and Elise agains leads out for 275 and called by the same 2.  River is a meaningless 3 and once again Elise leads out for 500, Ryan (last week's winner) raise to 1600, Haisam folds and Elise calls.  Ryan turns over 10 10 for the full house, Elise hit Broadway on the turn with her pocket K Q, and Haisam had folded his trip Jacks. 
As many Piranha folks know, pocket A Q has become known as "The Christine" after our own Christine LaMonaca busted out of the WSOP twice with that hand, and vowed she wouldn't play A Q again.  So, when Christine and Gordo were involved in a hand that flopped QQ x, Q on turn and A on the river, I had to write this up as Christine hit quads and won the pot holding the A Q.
Our first, second and third bust-outs came about halfway through level 2, all within 7 minutes of each other. We lost two more players in level 3, reaching the final table with 13 minutes left in level 3 at about 1:30 p.m.  Then things really slowed down.   Only 4 places received points and we didn't reach the bubble until level 9.  Then Justin Sauble became the bubble boy early in level 10, and we had our Final Four – Andy Park, Brad Jensen, Ryan Drake, and Vineet Kumar.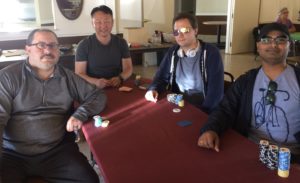 Vineet had a good-sized stack and shoved with pocket 99 and Ryan called with his K 10.  10 on the flop was enough for Ryan to win the hand, but icing on the Drake's cake was another 10 on the turn, leaving Vineet with a much shorter stack.  Our first out was short-stacked Andy Park after he open shoved his A J into Brad's A Q.  Q on the flop put Brad further ahead, but a K on the turn give Andy hopes of hitting Broadway.  Unfortunately that did no happen when a brick fell on the river.  Andy earned 3 points for his 4th place finish.
Next to fall was Vineet.  Flop was 2 4 5, Brad led out for 2800 and Vineet called.  Turn was a 3 and Brad led out for 3300, Vineet 3-bet to 8000, Brad shoved and Vineet called with his pocket 10 4, giving him 2nd pair, but Brad turned over a 5 6 for a straight, sending Vineet home in 3rd place earning 12 points.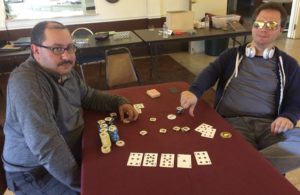 Heads up between huge stack, Brad Jensen, and returning champ, Ryan Drake, lasted about 35 minutes of Brad min raising and Ryan folding.  Ryan made a little progress after Brad opened with his J 9 and Ryan shoved with his K 4 after  flop of A A 4.  But, in the end, Brad's lead was too much for Ryan to overcome.  The final hand went like this.  Ryan holds 6 7 of diamonds, and Brad holds 7 8 off.  Flop comes 6 10 9.  Ryan shoves and Brad calls.  A on the turn and 6 on the river giving Ryan trips, but not enough to beat Brad's flopped straight.  Ryan finishes in 2nd for 23 points.  Congrats to our winner, Brad Jensen earning 32 points!