Event 1 took place in our new San Jose location on 24-Aug. An early 3-way all-in gave Karen Alberts a critical early-game chip lead, which she successfully used to get her and seven others to the final table. From left to right, Sandi, Lian, Ed, Steve, Bill, BJ, Karen, and Syd.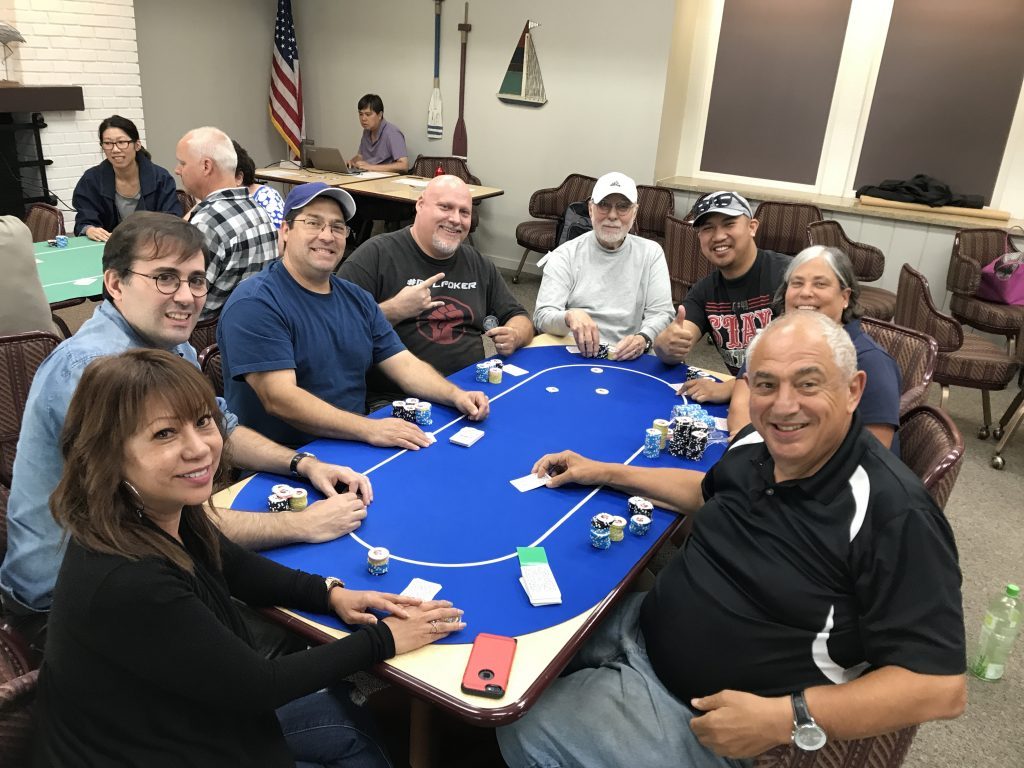 Ed went all in pre-flop with AJ, and Syd went all-in over the top with QJ. Sandi tanked and then finally folded 77. Runout is Q 10 8 8 J, and Ed is out in 8th.
Bill, Steve, and Sandi ended up in a 3-way all-in. Bill's full house won and I believe (team correct me if I'm not remembering) at this point Sandi and Steve ended up out, Steve's larger chip stack earning him 2 points.
Next major hand was Syd calling Karen's raise. Lian then went all-in, and Karen moved all-in over the top for protection. Syd ended up folding, and Lian's A10 was no match for Karen's 88 when the 8 hit. Lian out for 5 points.
Some time later, Karen went all-in with JJ on a 10-high board. Bill folded and Syd called with a 10. No help came and Syd's out with 9 points.
Bill busted out BJ with KQ, BJ going home with 20 points, and then finally after a roller-coaster heads up match, Karen ended up winning. Bill takes home 31 points and Karen wins 43. Nice start to the season!