Tara Hills in San Pablo hosted 18 players in Piranha's 5th tournament of Season 14. Starting with 3 tables, we were down to 2 tables in Level 3 after Dom, Jan, and Bill got knocked out. About halfway through Level 4 Tony Robinson's AK lost to Sheng's pocket 66 when Tony did not improve after his shove. In Level 5 short-stacked Patrick went all in with pocket 55 and got 2 callers, Mark with QJ suited and Joe with AK. Patrick turned a straight and got a much needed triple up.
In Level 6, both Syd and Mark went out and Joe followed in Level 7 when his J 6 did not improve over Sheng's A 9.  Dennis Koeller went out in Level 8 when his AJ lost to Ricky's QJ turned straight, bringing us to our final table.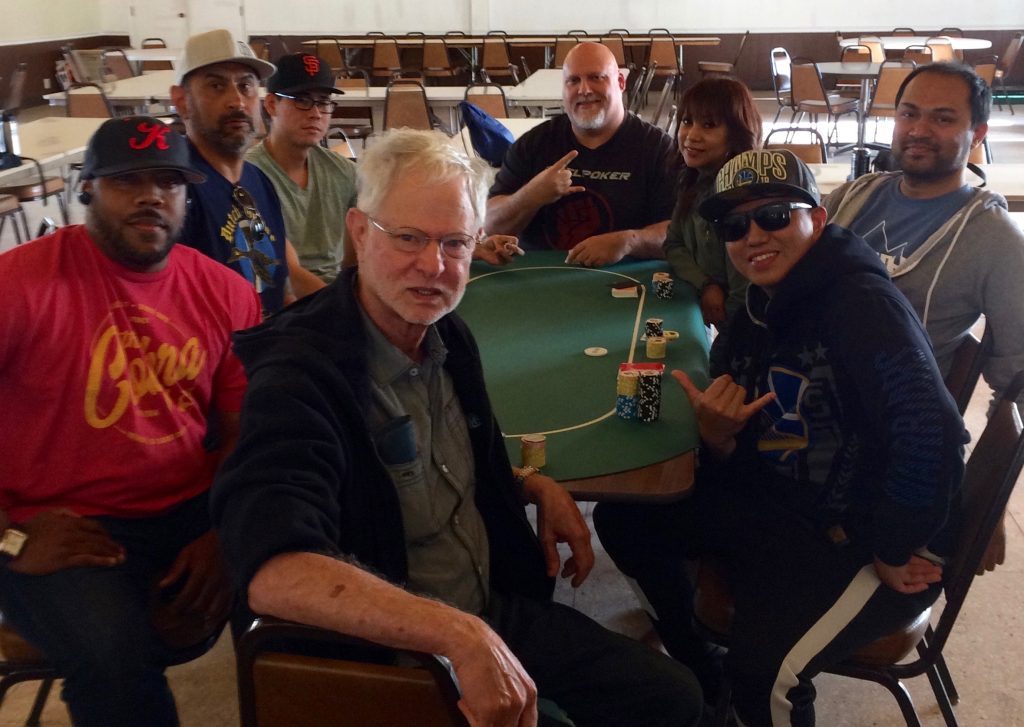 Counterclockwise from front center: Amo Tarnoff, Ken Tramiel, Haisam, Sheng Xie, Steve Stockmal, Sandi Sarmiento, Bharad, Ricky Flora
Sheng raises to 3300 preflop and Sandi and Steve call. Flop is A K 8. Sandi, holding A 5 leads out for 2000, Steve shoves, Sheng folds, and Sandi calls. Steve's QJ suited got no traction and he was out in 8th place. Haisam was next out in 7th in Level 10 after having lousy cards all day. Sandi, who had a big stack, was crippled when her pocket 7 7 flopped a set with A 7 4 – 2 diamonds, bringing her a set, but Sheng, playing Q 10 diamonds rivered a flush. A couple of hands later Sandi was out in 6th place.
Five players in the points.  First out in 5th place and 2 points was Ricky.  He was followed in 4th place by Bharad who added to his overall lead in the standings with 6 points bringing him up to 56.  The very next hand Ken earned 16 points with a 3rd place finish, and we were heads up between Sheng and Amo.  They played heads up about an hour and the lead shifted several times, but in the end Amo literally 86'd Sheng and took down the tournament.  The last had Sheng shoved for his final 6K with a Q 9.  Amo flipped over an 8 6 off suit. Amo flopped a 6 to take the lead, and then Sheng turned a Q to retake the lead.  The dreaded 8 on the river sent Sheng packing for 27 points.  Congrats to Amo who took 39 points with his win.