35 players showed up at Parkwoods to see if they could chase our  points leader Vicky Dea.  In the first memorable bust out of the tournament Judy L. opened to 125 in early position with the blinds 25-50.  After a flat call from Tek K. Dom C made it 400 to go.  Judy folded and it was back to Tek who made it 1025.  Dom repopped him to a little over 2k and Tek got his stack of 5500 ish in the middle and was snap called by Dom. Tek had the rockets


and Dom showed


The flop came an amazing



  The turn brought Tek salvation in the form of the

Unfortunately the

paired the board and last weeks final tablest was out. After a quick walk around the room with 18 players left it was Ferdy J and Joey Kong dominating their tables with the chip leads. Knockouts were coming fast and furious and we got down to the final table bubble in short order.  Unfortunately for Mark N. he was out in 10th and the final table and points bubble was set.
Tournament 2, Saturday, Sept 12, 2015 Results
First to go and missing the money was a short stacked Claudine.  A short stacked Joey kept them at 8 as she was able to win with AQ vs AK pre, and AK vs AA pre where she flopped 2 kings. Unfortunately for Adrian this meant he was the next to go when his KK could not hold vs Olivia's Ak pre.  A short stacked Olivia was next and sent to the rail in 7th when her QJ was no good vs AJ
The next three bust outs came fast as Dean Joey and Ferdy all went out in 6th, 5th and 4th respectively. Ferdy was sent to the rail in a monster pot when at 1-2k he shoved 30ish K with K7 in the small blind and was called by Mike with Q 10.  A Q in the window was all Mike needed to send us to 3 handed. Larry was next to go at the hands of Andy P. when Larry made a move on the turn with bottom pair and a straight draw and was called by Andy P top Pair.
In an epic Heads Up battle that lasted over 45 minutes it came down to Andy having Mike all in with A8 vs A6. a 683 flop brought Andy a step closer to the win till Mike spiked the 6 on the turn.  A blank river and the battle continued. Andy battled back to the chip lead and finally crippled Mike when his A8 held vs K3.  IN the end it took one more hand where Andy emerged the victor having his AJ hold up vs Mikes KJ.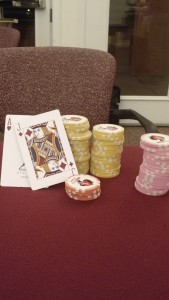 Great job Andy "The Man Of Mystery"  Here are the final standings..
Overall another successful tourny for Piranha.  We are now at 12 signups for Oct 24th Anniversary event so get your tickets now!  Piranha Online also opened up the books and saw 11 people ready to battle it out for Piranha bucks on the virtual felt.  Exciting times for our little club. See you all on Saturday Sept. 26th at Foster City for Event #3