Piranha Season 11 Tournament 4 brought out a field of 24 players, including several new players to this season and a few returning veterans who we didn't see much last year. 
One of the early notable hands is between Anne Stewart with KJ spades and Rod Flora with KQ off.  Flop comes J 8 9, with one spade.  Anne leads out and Rod calls.  Turn is the 10 of spades.  Anne bets,  Rod 3 bets after making his straight, and Anne calls.  River is A of spades.  Anne checks her nut flush, Rod bets, Anne reraises, Rod calls.  Rod is left with a couple of big blinds and is soon the first to exit.
Play went along fairly uneventful and we made final table by 6:00 p.m.  Final table consisted of:  Eric Grady, Vineet Kumar, Ian Kawata, Lynsy Iwamoto, Andy Park, Karen Alberts, Laura Marshall, Amo Tarnoo, and Rich Modjeski.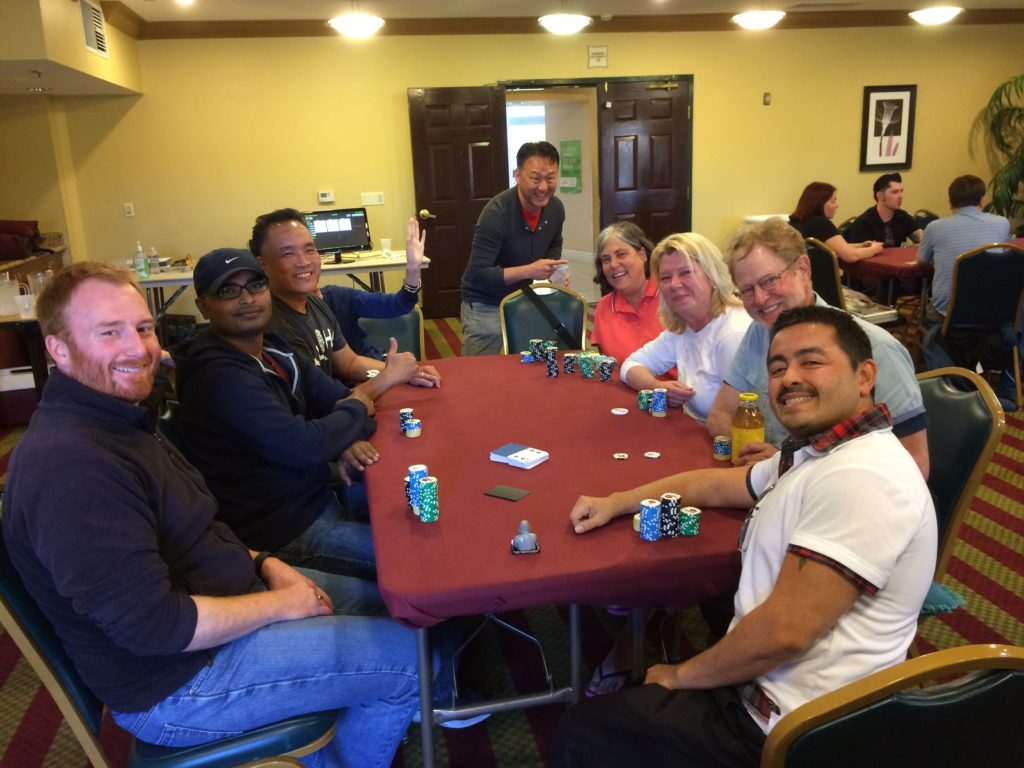 Vineet, making his second final table in two weeks, was first out, finishing in 9th place.  He was quickly followed by Laura Marshall when chip leader, Karen Alberts shoved her AK suited and Laura called with A 10 suited.  No help for Laura and she was out in 8th.
Ian Kawata raised preflop holding an AK.  Karen, with pocket 44 called.  Insignificant flop and Ian shoved after the flop, Karen called. No help for Ian and he bubbled, out in 7th.
Rich Mojeski shoved his AK off after Amo Tarnoff 3-bet his KQ of clubs.  The club flush came for Amo knocking Rich out in 6th place for 3 points.
Eric Grady is holding KQ on the button. Karen Alberts raised her KJ to 2500 UTG.  Eric shoves his final 9200.  Karen calls.  Flop is Q 9 x. Turn is irrelevant, but a 10 comes on the river to give Karen a straight knocking Eric out in 5th place for 7 points.
Lynsy Iwamoto raises her 5 5 pre flop.  Karen shoves her 9 9 and Lynsy calls.  No help for Lynsy who finished in 4th place for 10 points.
Amo Tarnoff shoves his A 8 suited and has Karen's A 3 suited dominated until she hits a 3 on the flop, ending Amo's tourney in 3rd place for 25 points.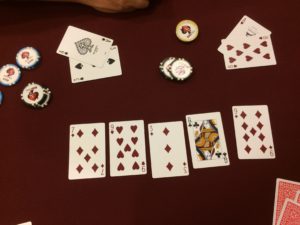 Heads up between chip leader, Karen Alberts and last week's winner, Andy Park.  Piranha has only had a few back-to-back winners, including Larry Foster and Tony Robinson.  Can Andy repeat?  Well, with last week's bubble going on for almost 2 1/2 hours, this week the heads-up lasted almost 2 hours. 
Some notable hands in heads up play:
Flop is 6 10 2, 10 on turn, 9 on river.  Bets and calls along the way.  Any bets on river, Karen shoves, Andy calls turning over 8 10 and thinking I've got her beat with trip 10's.  That's until Karen turns over A 10.  What a cooler for Andy!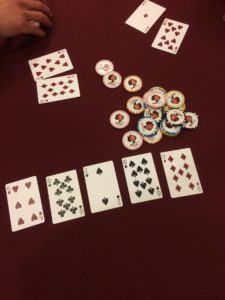 Soon after that, Andy hits 2 pairs when Karen shoves her nut flush.  Andy tanks but eventually folds saving himself from elimination.
Karen holds pocket 77.  Andy has KJ.  Andy shoves pre flop and Karen calls. Flop is J 10 3, and with no help for Karen on the turn or river, Andy takes the chip lead.
With blinds at 4K and 8K, Andy raises to 9500 pre flop and Karen calls.  Flop comes 8 A 9.  Turn is 7.  Andy shoves, Karen folds, and Andy shows the bluff.
Karen retakes the lead when she shoves after hitting trip 10's and Andy calls but doesn't show.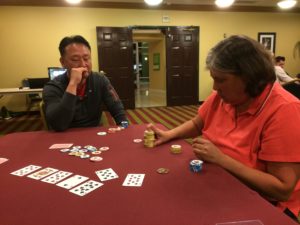 Andy shoves his final 23K with a 10 6.  Karen tanks for a long time but eventually folds her 10 9, missing her chance to take Andy out.  Andy asks her if she was beat, and she replies "no, my 9 would have played."
The final hand of the night was Andy holding a 7 8 and Karen with a 9 10.  Andy checks pre flop and leads out with 10 K after a flop of 10 7 6.  Karen shoves and Andy calls.  Turn is an insignificant 2 and a Q on the river.  No Repeat!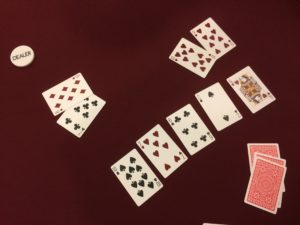 Karen Alberts is our winner taking 45 points.  Andy finishes in 2nd with 33 points.
Hard fought and well-played heads-up.  Congrats to Karen and Andy!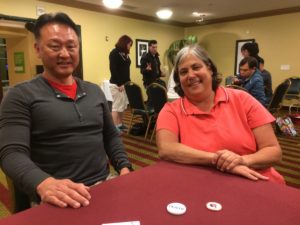 Written by tournament director Jan Klimala