Piranha's 3rd Tournament of Season 11 was one of the longest I have witnessed, even though we only had a field of 27 players.  After starting a little late due to some confusion on which venue we were using, we only lost three players before the first break.   One notable hand that brought us into the first break was between veteran Sanjay Vara and new player Anne Stewart.  Sanjay had pocket Queens and Anne had pocket 6 6.  Flop comes Q 6 x. Raise, call.  Turn brings another 6 giving Anne quads and Sanjay top boat.  Sanjay shoves and Anne calls, crippling Sanjay.  He then doubled up and tripled up, but could really never regain his momentum.  Another notable hand early in the tourney was John Gary Marsh with QQ, Dominic Chan with JJ, and Vineet Kumar with AA.  Bet and calls all around.  Flop brings Dom a set of Jacks and he shoves.  John Gary folds and Vineet calls.  Turn brings another A bringing Dom down to two big blinds before the first break.
Play went along fairly steadily after Break 1 and by 6:30 we were at the final table which consisted of 5 veterans, Ryan Drake, Vineet Kumar, Andy Park, Gerry Shebar, and Vlad Troyanker; and 4 newbies, Gilbert Amparo, Elise Gaylord, Sean Paschini, and Alan Sien.  Alan was first out in 9th, followed quickly by Gerry, and then Vlad.  This brought us to the bubble was lasted almost 2 1/2 hours!  Stacks were fairly even and no one wanted to be the bubble.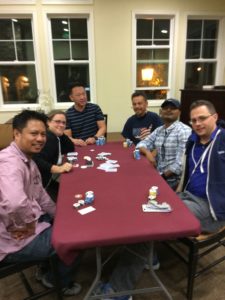 Players were calling with 2 or 3 big blinds.  Every time someone shoved, the smaller stack would double up.  Andy was the chip leader and lost to Ryan when Ryan rivered the nut flush.  Gilbert shoved with 99 which held up against Sean's A 9. Andy lost with A5 to Vineet's A8.  Elise called Vineet's 6 6 shove with A3 and did not improve.
Finally a short-stacked Sean shoved his Q 4 and ran into Ryan's AQ.  The bubble was burst.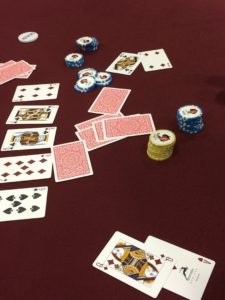 After the bubble action went fairly quickly.  Gilbert ended in 5th place for 8 points, followed in the next hand by Vineet in 4th place for 15 points.  The final three played several hands before the small blind, Andy shoved his 9 4 off into big blind, Ryan's AQ suited.  Flop brings J 2 8, Q on turn improves Ryan's hand, only to lose to Andy's straight when a 10 hits the river.  Ryan earned 24 points for his effort.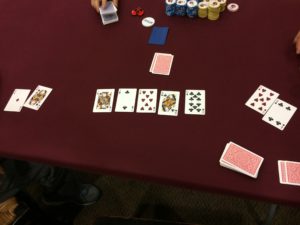 Heads up between Andy Park, and first time Piranha player Elise Gaylord.  The 3rd hand of heads up Andy shoves and is called by Elise.  Both turn over pocket deuces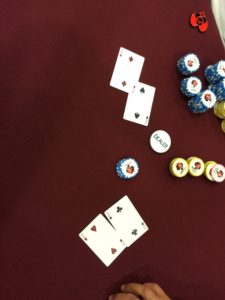 A couple of hands later Elise's shoved K 10 has Andy's K 9 dominated.  Flop is a 3 4 5 with an A on the turn.  Andy calls for a 2 on the river for a chop and his wish is granted!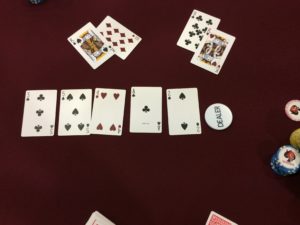 Play continues.
Finally on a 6 4 4 flop, Elise shoves her A 7 off & is called by Andy's 6 5 off.  Andy improves to a full house with a turned 6 and takes it down.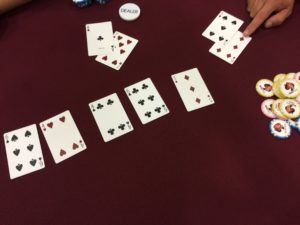 Congrats to Andy for the win and 48 points.  And, fantastic job, for our newcomer, Elise, who takes second and earns 35 points.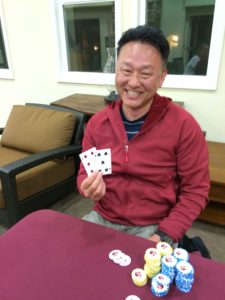 (Written by Jan Klimala, TD).