This is Dominic reporting.  Before I get to the results of the Tourney,  I want to let people know that we will no longer be using Evite.  We have had too many problems with folks not getting the emails and with individuals who think they have signed up but really haven't.
Instead, we will be doing invitations directly through our website.  You can RSVP to Tournament 2 here.  You will need to login and create a password.  We hope this will fix all of the problems we've had with our invitations.  Thanks to Webmaster Rodney Resella for making this happen.
One of our new features this year will be that Tournament results will be reported out by the Tournament Director (or their designee).  We hope this will provide a direct feel of what happened at each tournament.  We're going to post this on our blog and hopefully start some conversations about the hands.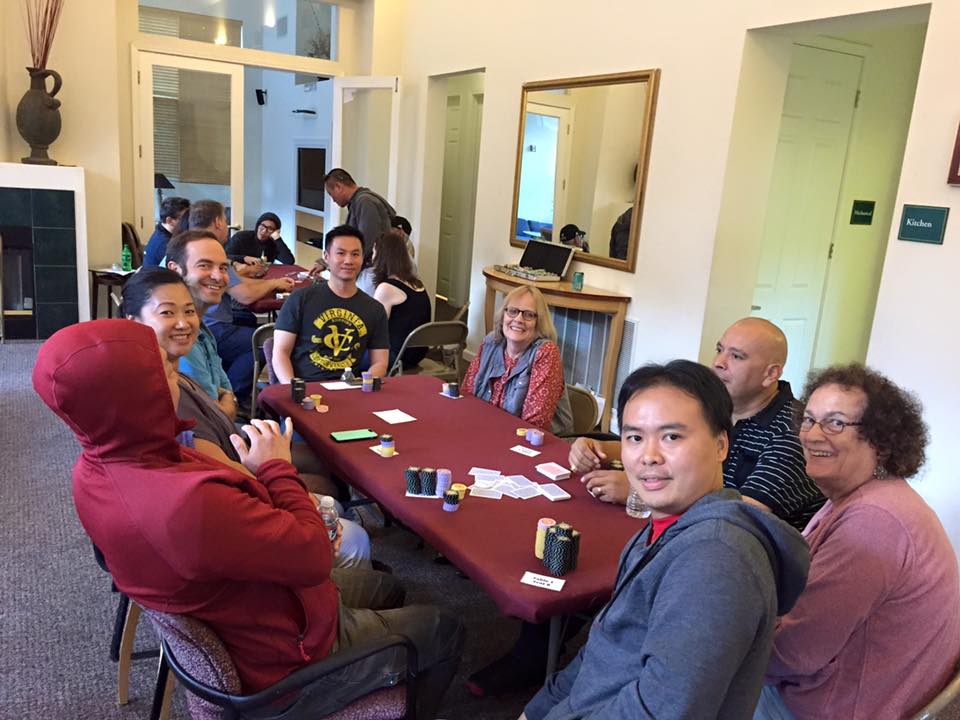 Congrats to the winner of Tournament 1, Vikki Dea who outlasted 44 other players to take down first place.  The final hand had several raises and re-raises before Vlad was all in with KQ vs Vikki's pocket Kings.  The flop gave Vlad some hope with a gutshot possibility but it was not to be as Vikki took down bragging rights for Tournament 1.  The standings can be found here.
The first Tournament of the year kicked off with a full 5 tables of 45 players. At the first lunch break with our catering agreement, Toan fed us some very yummy Mexican food.
An interesting hand early in the tournament.
Blinds 50/100.
Folded to Mike E. in the small blind who opens for 250.  Ryan P in the Big Blind 3bets to 750 and has another 2200 behind. Mike calls. Flop is



.  Mike leads with 700 and Ryan jams for his last 2200.  Mike tanks and then calls and shows


.  Ryan shows pocket


. Turn is the

knocking out Ryan out of the tourney.
Another interesting hand involved our treasurer Jan and new player Ed T-
Blinds 100/200, 25 antes.  Ed from early position raises and everyone folds to Jan who calls with


in the Big Blind.  The flop is



.   Jan leads out and Ed calls.  Turn is a

.  Jan leads out again and called by Ed.  River is a heart and Jan jams all in and is snap called by Ed who shows pocket Aces for the full boat.
A fascinating hand on the bubble-  Juergen raises from the button and Tek in the small blind and Vikki in the big blind call.  All three have healthy stacks.  Flop is A Q rag rainbow.  Juergen C-bets and both Tek and Vikki call.  Turn is another Queen.  Checked all the way around.  River is a King.  Tek and Vikki both check and Juergen value bets about 40% of the pot. Tek thinks about it and folds and Vikki goes into the tank and eventually calls showing


.  Juergen flips over


and Vikki takes down a huge pot with her hero call.
It was a great start to our 10th Season.  It's going to be an exciting year!  And please remember to join us for our 10th Anniversary fundraiser event on October 24th.  Tickets will be sold at each tournament till October 17th.  Send me an email at [email protected] if you want to buy tickets or if you have a prize to donate.
See you at Tourney 2 on September 12th.