Tourney 4 in San Pablo almost didn't happen. We only had 7 people signed up early Friday, but with a lot of recruiting and yours truly playing as well as being TD, we ended up with 11.  I thought it's going to be an early day, but surprisingly we didn't finish until almost 7 p.m. 
First hand of note at a table of 5, was a 4-way limped pot on the last hand of the second level with blinds at 50/100.  Patrick, on the button with


, Bharad in small blind with


, and Lisa in big blind with J9. Ricky also limped in but folded after action on the flop of



.Lisa led out for 250 with calls from Patrick and Bharad.  Turn is

and Patrick is first to lead out for 750, Bharad calls and Lisa raises to 1500, with two callers. River is

completing a straight on the board. Bharad leads out for 1000, Lisa folds and Patrick calls. Both Bharad and Patrick flopped straights with Lisa flopping two pair. Bharad takes it down with the higher straight.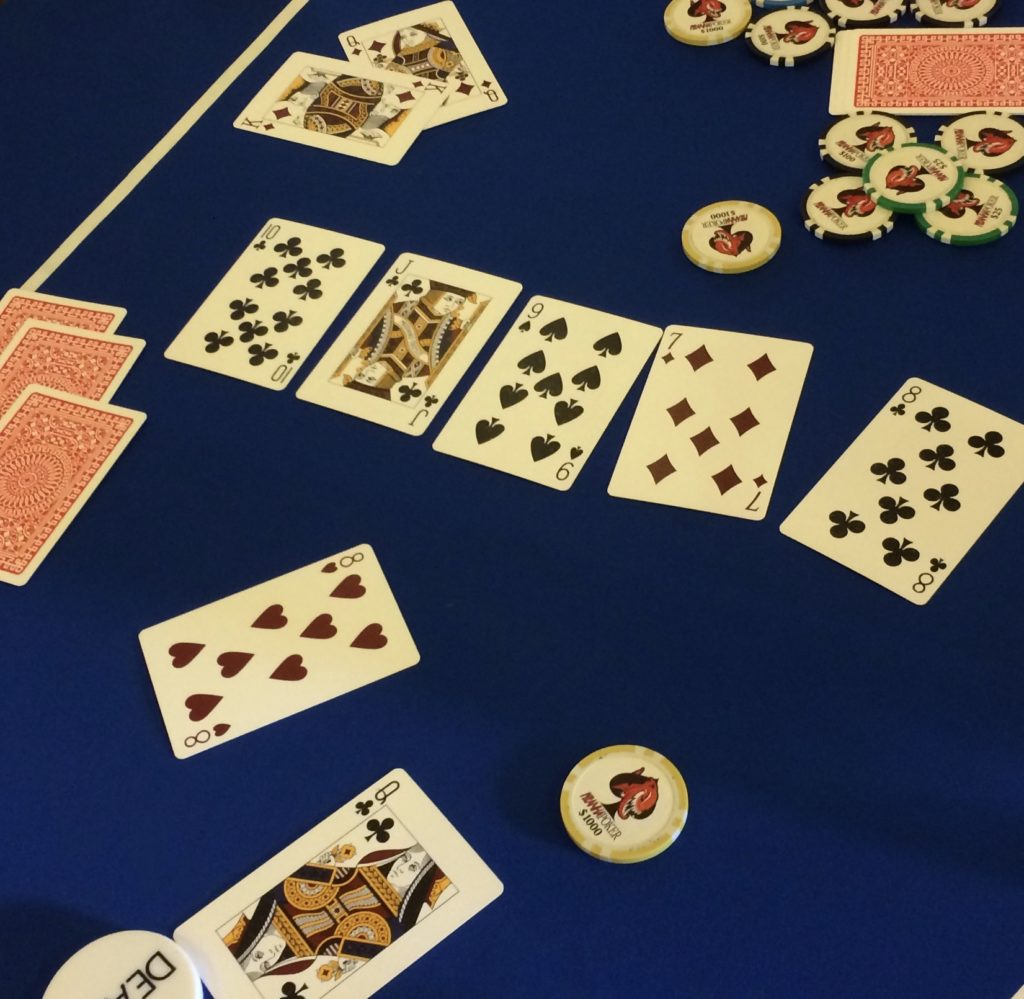 Ryan was the first bust out in Level 3 followed soon after by Jan when her pocket Aces were cracked against Patrick's QJ who hit a straight on the river.  We reached our final table just before the lunch break.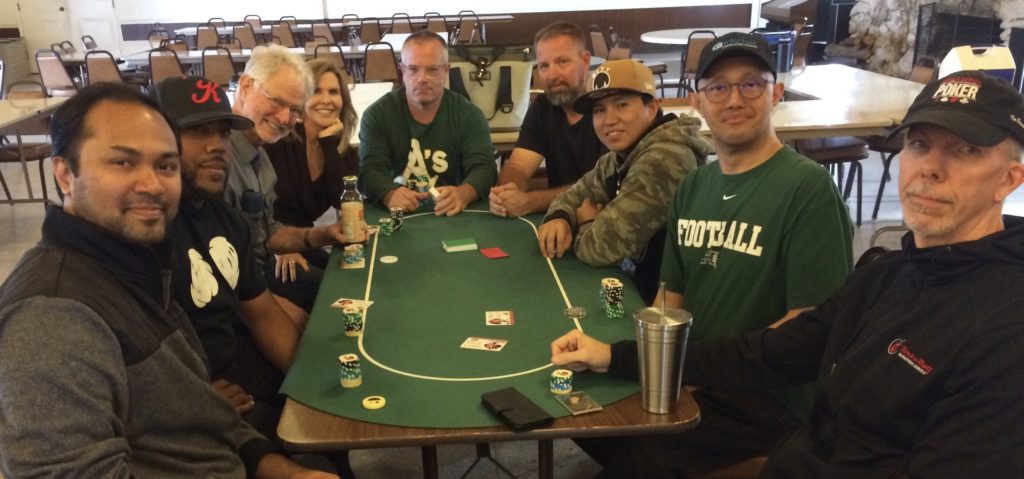 Bharad, Ken, Amo, Lisa, Gordo, Mark, Ricky, Patrick, and Rob. 
In Level 6 we had a 3-way all-in.  Mark, who was short-stacked shoved first with his pocket 10's, Ken, who was shorter stacked than Mark also shoved with


, followed by Gordo who went all in with pocket QQ.  The flop is Q 2 2 and that's all she wrote after Gordo flopped a boat. Ken out in 9th and Mark out in 8th.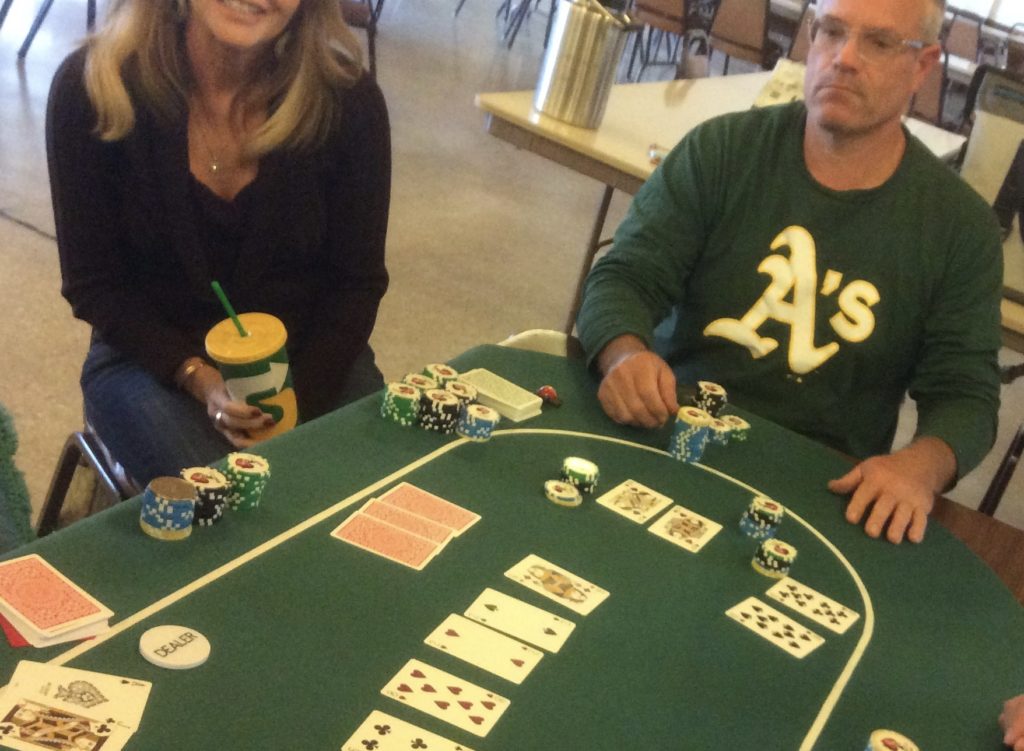 Late in Level 7 Ricky shoves preflop with pocket Kings.  Patrick raises with pocket 7's and folds around. No help for Patrick and Ricky doubles up. Then Amo goes in with his A 9 which is no match for Lisa's A Q and Amo is out in 7th. In Level 9 Ricky shoves preflop with A K and Rob calls with A 10.  Flop is K 3 10, giving each player a pair but Ricky's is bigger and Rob gets no more help knocking him out in 6th place. In Level 10 Bharad shoves preflop with pocket 55. Patrick calls with


. Patrick overtakes Bharad on a Flop of



and finishes Bharad off with a

on turn and

on river.  Bharad out in 5th.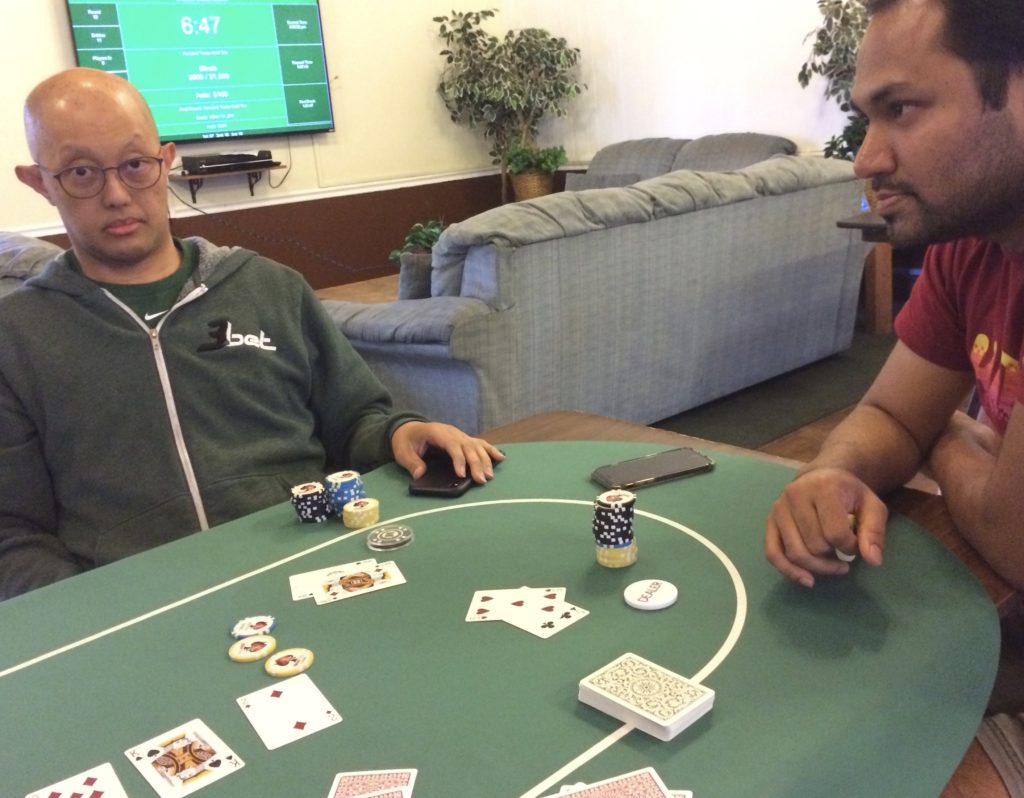 In Level 11, Ricky shoves with 10 9, Calls by both Patrick with Q Q and Lisa with J Q.  The run out is A A 9 10 4 making Ricky the bubble boy finishing in 4th and we are down to the final 3, Lisa, Gordo, and Patrick, all in the points.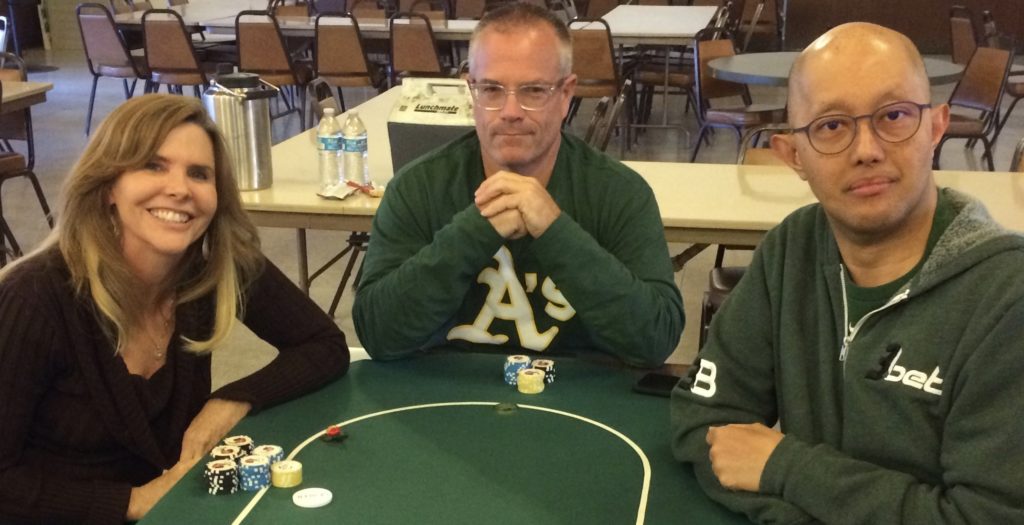 Still in Level 11, Patrick gets pocket Q Q yet again and shoves preflop being called by short-stacked Gordo with his


.  Gordo hits an

on the river but not before Patrick seals the deal with a

on the turn. Gordo out in 3rd for 10 points.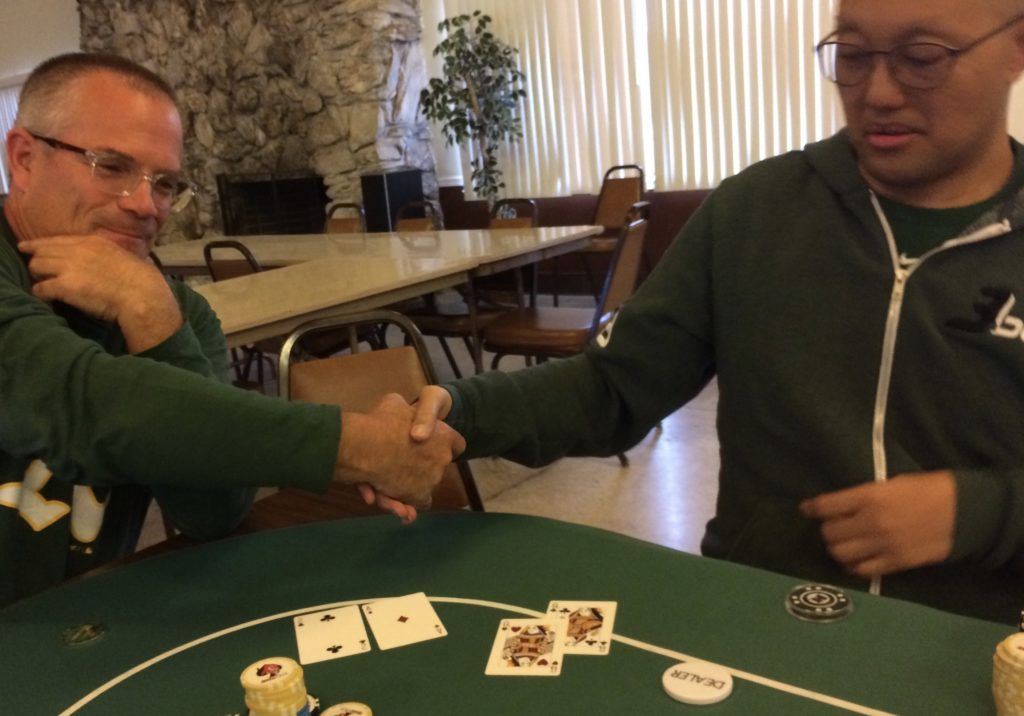 Patrick goes into heads-up with an overwhelming chip advantage over Lisa and heads-up play only lasts a few minutes.  Bet, call preflop and on flop of



. Again, bet call on turn of

. Once the river

comes Lisa, holding


, shoves on river with her pair of 6's.  Patrick instacalls and flips over


for the straight flush and the tournament win. Congrats to Lisa who earned 18 points and Patrick who earned 27 points for his 1st place finish.